Click HERE to find out more about our P3 Platform Plugin Padlock service
so we can help you encrypt your files.
We do a lot more than obfuscate we literally lock it down.
It
 

STOPS

 Plugin

 Thieves
Smack Dab In Their Tracks
Don't Just Stop Them… Repossess Your Products
(It Works With Literally Any Type of Platform Plugin using C code and involving a bar update…


(Indicators, Scanners, Strategies, EA's, Bar Types 

+ More)
BRAND NEW
 

–
Fort Knox Level Platform Plugin Digital Security System
Protects Your Platform Plugins From The Digital Underground
Lurking In The Wings To Steal, Sell or Give Away
Your Platform Plugins From Right Under Your Nose!
Protect Unlimited Platform Plugins

 

You Own, On Any of Your Websites, Instantly!
Immediately Lock, Disable, and

 

Repossess Any Stolen Plugins… At the Click of a Mouse!
Set Expiration Dates and Trial Periods For Any File, Which

 

Increases Sales and Profits.
Legally 'Lowjack' Your Files So You Can Easily

 

Track Their Activation…Worldwide!
Prevent Sharing of Your Platform Plugins-

 

Earn More Money From Real Customers.Online Digital Management System Does Everything For You – Requires No Effort
Limited Time

 

VIP Charter Membership

 

Locks You In Unlimited Plugins for Unlimited Users

 

For Less Than $7 A Day!
From: Darrell Martin
Re: Your Products Have Been Stolen
Dear Friend,
For well over a decade I've generated millions of dollars selling digital products online. In fact, I've created some of the best selling products and services on the Internet today.
What you may not know about are the hundreds of hours developers like yourself have spent tracking down people who've ripped off their products – and even turned around and then SOLD their platform plugins illegally.
Just recently, I talked to one developer who ran across two sites blatantly selling his products which he spent spent tens of thousands of dollars developing for a mere $4.99. I know you can't believe it, just think how he felt when he saw it.

Right Then and There I Made A Serious Decision…
Enough is Enough – This Has To Stop Immediately!
I was on a mission. I've spent the better part of 2 years researching and looking for the perfect solution to stop these plugin thieves dead in their tracks.
I even went to the expense of building two systems that cost me tens of thousands of dollars. Fact is I scrapped them both because they weren't good enough to pass my high quality standards.
Then by a freak accident, I ran across a system which passed my rigorous tests. I was in utter shock and excited all at the same time. When I saw it, I just had to have it. I immediately contacted the owner of the system and bought the whole system from him and then modified it with all the bells and whistles you can see on the features page.
My Research Revealed Some Shocking Information
During my exhaustive research, I discovered the problem I had was not just isolated to me, but it's a growing concern among many 3rd party platform plugin businesses. In reality, it's a growing worldwide epidemic.
Did you know that you could easily be losing as much as 70% of your platform plugin revenues because of refunds, digital piracy and plugin sharing?
Here's what you're up against!
A Recent Survey Conducted on Digital Products
Revealed A Business Owner's Worst Nightmare …
Repeated requests for refunds have reached alarming proportions, so much so that for every 100 sales there
are an estimated

 

10 requests for refunds!
Nearly 70% or more of your online revenues are snatched by illegal distribution of digital products by
online

 

thieves and digital pirates.
More than 20% of potential buyers are tempted to purchase digital products from illegal sources

 

because
they offer the exact same product for obscenely low prices. (The Only Thing Being, Those Product Are Stolen)
More than 23% of the Internet users think

 

its ok to share

 

software or any other digital products using peer to peer applications.
The repercussions of digital product theft is felt by businesses everywhere, just like yours, who have put in valuable time and effort creating the products.Not only are your efforts wasted, but all that money that is yours is snatched away from you!
Let Me Give You An Example and You Can See For
Yourself How The Normal
 

UNSECURE

 

Methods
of Product Distribution Are Exploited

You've busted your butt working on and creating a platform plugin which will set the world on fire and you decide to sell it over the Internet. You allow customers who are interested in your product to pay for the product and download it directly from your website.

You also promise a REFUND if the users are not satisfied with the product.

Now, here's what the online thieves and pirates resort to.
They pay for your product,

 

act as if

 

they are legitimate customers.
In a few days, sometimes

 

even minutes after, they return your product

 

demanding a prompt refund

 

stating that
they are not satisfied with the product. Now if you have promised a refund,you have to comply and

 

you end
up losing money.

 

If you don't refund them, they'll do a chargeback which can cost you an additional $20-$30 per incident.
IMPORTANT NOTE:Your product is digital, copies can be made out of it! They get a refund and they also get to

 

KEEP

 

a full functional copy of

 

YOUR PRODUCT.
Well,

 

the worse is not over! These digital pirates now create umpteen copies of your product and distribute it along with the registration key! So not only do they deny you money, they earn money out of selling your very own product!
Digital Piracy Is A Worldwide Problem

Last Year, $39,576,000,000 Was Lost
Due To Piracy and Digital Theft!
That's 39
 

BILLION

 

Dollars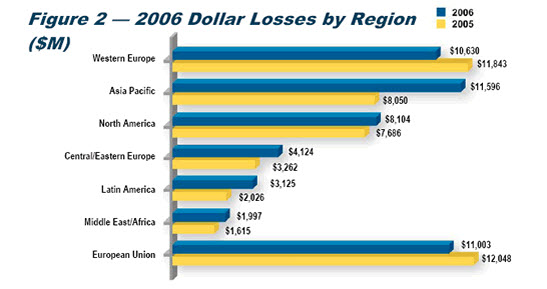 I Know What You're Thinking…

"What Does This Really Mean To Me?"
Let's make some simple assumptions. Let's assume you sell a digital product for $97. Let's also assume you sell 50 products each month. That's a total of 600 total sales for the year.
Here's what happens…
If 50% of the people who receive your product share your product with friends, that's 25 new people each month who share your product.
It appears only 300 sales are lost each year.
That's not true, here's what really happens.
The
Profit Loss Matrix

Mo.
Mo.1
Mo.2
Mo.3
Mo.4
Mo.5
Mo.6
Mo.7
Mo.8
Mo.9
Mo.10
Mo.11
Mo.12
1
25
12
6
3
1
2
25
12
6
3
1
3
25
12
6
3
1
4
25
12
6
3
1
5
25
12
6
3
1
6
25
12
6
3
1
7
25
12
6
3
1
8
25
12
6
3
1
9
25
12
6
3
10
25
12
6
11
25
12
12
25
Total Shared
25
62
104
149
195
241
287
333
379
425
471
517
517 Sales Will  Be Lost Over The Next 12 Months
517 x $97 = $50,149.00
Lost In Stolen Revenue
Right Now, As Your Reading This, Digital Thieves Could
Be Sending Out Your Plugins All Over The Internet
This Problem Is Serious… People, Just Like YOU, From All
Over The World Are Up In Arms – What's The Solution?
Here are your options,
1) Continue with your existing mode of selling on the Internet and pray that you are not deeply affected. Ignoring it won't make it go away.

2) Hard encode each and every indicator with an egg timer. Then have to reissue it every so many days/weeks/months. (Plus you have to be present to do this so they have to wait on you which can lead to refunds)

3) Give someone lifetime access to your product on one computer and pray they don't ask for a refund (Plus you have to be present to do this so they have to wait on you which can lead to refunds)

3) Close up shop and stop doing business online and accept defeat against these digital online predators.
The Wait Is Over! I'm Proud To Introduce To You…

The Indicator License Business System Is
The Solution To Your Platform Plugin Theft Problems
Indicator License Business System  is my latest product and I'm sure you'll agree, my most needed product. It protects your platform plugins from theft and pilferage, acting as a NEVER-FAIL Security Guard. Indicator License Server ensures that only the real and legitimate buyers of your platform plugins have access to your information.With Indicator License System protection, thieves and digital pirates are shut off and disabled from using your platform plugins no matter what they do! With Indicator License you win!
Been a victim of stunned-by-refund? NOT ANY MORE! Don't let a user get away with using your digital products ever again after you've refunded him. Indicator License lets you deactivate and disable a user from using your platform plugin after you've refunded their purchase.
Indicator License is a Digital Safety Key Locking your product and comes packed with features to ensure complete
protection for your platform plugins from Online Thieves and Pirates.
Stop people from pirating your plugins signup today!